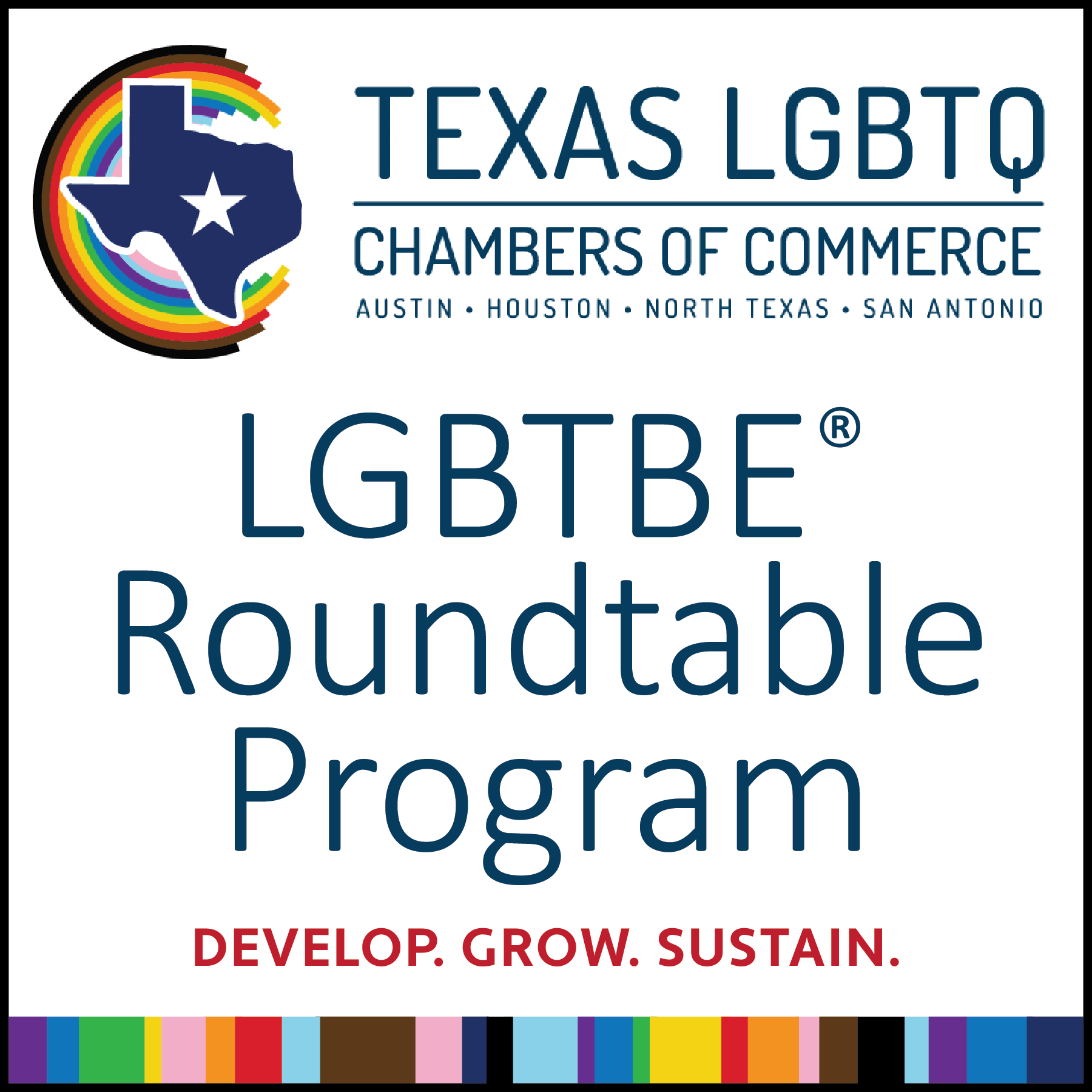 LGBTBE® Roundtable: Best Practices Utilizing the LGBTBE Certification
Tuesday, May 3, 2022 | 10:00 - 11:30 am

MAXIMIZE YOUR LGBTBE® CERTIFICATION!
This virtual event is open to North Texas LGBT Chamber members who are LGBTBE® Certified.

Join the Texas LGBTQ Chambers of Commerce for the second Statewide LGBTBE® Roundtable Program of 2022 to support your business, get certified, learn, and connect. Connect with LGBTBE businesses and buyers across the State of Texas!
The primary focus of the program is to foster the development, growth and sustainability of certified LGBTQ-owned businesses which are members of the Austin LGBT Chamber, Greater Houston LGBT Chamber, North Texas LGBT Chamber, and San Antonio LGBT Chamber.
Join other LGBTBE® certified businesses across the State of Texas for this roundtable program to learn more about why and how to get LGBTBE® certification and work more effectively with corporate partners. Participants will hear from a panel of experts from our esteemed corporate partners representing different industries in different parts of the state.
Hear from a panel of business owners who will share best practices around the LGBTBE® Certification.
Participants will learn about..
What has worked for these business owners in terms of their certification
Best practices around business development utilizing the certification and engaging with large companies
Specific ways these businesses have utilized the certification through supplier diversity and procurement
Other benefits of certification beyond direct procurement

MODERATOR & PANELISTS










Moderator


Tracy Upton (she/her)
Supplier Chain Advisor –
US Supplier Diversity


Brea Gates (she/her)
President
Lianne Lami (she/her)
CEO & President
This virtual event is part of the statewide LGBTBE® Roundtable Program which offers education, connection and opportunities to help your certified LGBT Business Enterprise (LGBTBE®) grow and thrive. The program is held multiple times throughout the year and is complimentary to members of the collaborating chambers.
The goals of the statewide LGBTBE® Roundtable Program are:
Support Certified LGBTBE® members through education
Create connection opportunities for LGBTBE® certified businesses to support business development and growth
Connect LGBTBEs across the State of Texas for business development, best practices share and more
LGBTBE® Roundtable: Best Practices Ut...
Date and Time
Tuesday May 3, 2022
10:00 AM - 11:30 AM CDT
Location
Registered participants will receive a link to join in the confirmation email.
Fees/Admission
This program is complimentary to Chamber members who are LGBTBE certified businesses
Website